Day 2 – Nagarkot to Namo Buddha, Nepal
---
The day started with a spectacular view of the sunrise from our rooms, but unfortunately, we could not see Everest today.
Breakfast first and then the warm up, provided by Cat, who had us all stretching. Guy seemed to think he was at a Disco – more on Guy later.
Before we left, it was discovered that Stuart had left his plug and charger in his room. The first to do that on this trip!
At the same time, there was panic from Cat, as she realised there were 4 grey vans that looked the same parked nearby and she thought she had put her suitcase in a totally random van. Panic was averted when she spotted it in the correct van – more luggage hiccups later.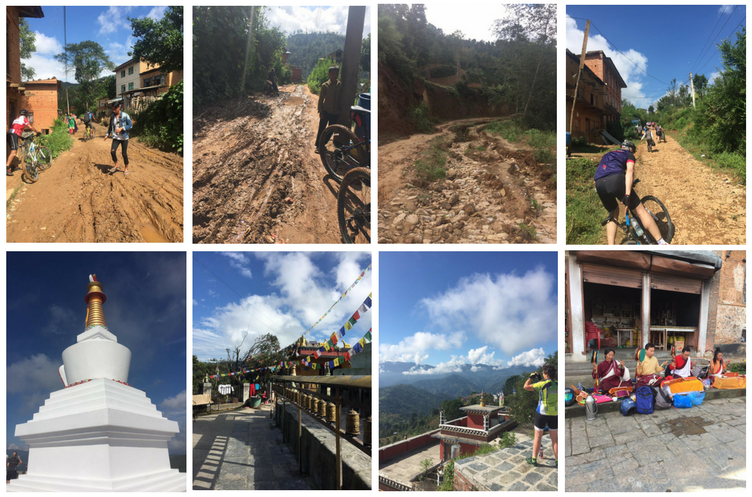 On the bikes and almost immediately we hit the first 700 foot climb of the day. A total of 2,500 feet over 20 odd miles. Not something any of us wanted first thing after breakfast. We were all ready for a break once we reached the top, especially two cog Toby, as he will now always be known, after remarking halfway up the climb "wow, I've just realised I have a 3rd cog on the front".
Some of us took the opportunity to climb a lot of steps to hopefully get another chance for a view of Everest – alas, nothing again, too misty, but it sounds like a few photos will claim to be of Everest within a few months!
Also, during this stop, we discovered that Jagun, in his words has "a crap phone which links to the fiwi".
Probably easier to name the people who did not have any tumbles today, but no one was hurt and a there were a few memorable ones.
Donna came off just behind Colin and Cat, when her bike seemed to stop and she carried on, hitting the frame of the bike between her legs. Colin helped her up and when he asked if she was OK, she whispered "no, I've hurt my ……"
Guy was cycling with Cat a bit later when he decided he would take a short cut on a rather flat piece of grass, but managed to come off…all on video to Cats delight!
There seems to be a bit of a theme developing here, as Cat always seems to be around to witness crashes, including witnessing Sanjay twice in the first two days. So much so, that Sam is worried about cycling too close to Cat.
I can, however, confirm that our Cat is actually mystic Cat, because she asked me if I had come off today to which I replied, "no", only to go over the handlebars about 30 seconds later. I was not allowed to get up till she got the photo.
As promised earlier, more on Guy, who when asked if he had come off, denied all knowledge even as he removed the grass from his hat – it was not until lunch that he admitted things, after the video had been shared with most of the table and Mark had played it back to him frame by frame.
It seems he has been determined to get his Vietnam name back and has once again been christened GI Guy!
After a lovely lunch, we were back on the bikes and it was fairly uneventful until the rain came just before we got to the hotel. We managed to find the faster riders eventually, who were in the dry enjoying coffee.
Also, as promised, more luggage hiccups – one of the support vans with half of the luggage got stuck a little way off and despite the valiant efforts of our superheroes John, Mo and Sanjay, who managed to push a car through the mud, but were not allowed to try the van, half of us were stuck without anything to change into. Still, our brilliant support staff managed to get everything to us in no time at all, so a happy ending after all.