Day 5 of the Cycle Challenge in Nepal – The Hardest Day!
---
We awoke early. We had the hardest day of the trip ahead of us.
We left on the bikes at 7am for 65 kilometres which were to be mostly uphill!
Today was going to be a true test of the team, and we had to dig deep and help each other, so that we could all Finnish in daylight.
The morning went well and we were on schedule when we stopped for our packed lunch.  Our guide, Jagan described it as a packed lunch, but it was rice and meatballs, plus noodle soup, which picked us all up.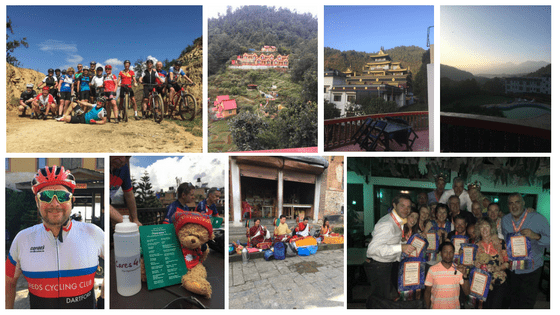 We allowed ourselves only 30 minutes to eat and then got back on the bikes for the rest of this epic day.
Some more uphill was followed by the only downhill stretch of the day, until finally we hit the last 17 kilometres, all uphill with no breaks, climbing to the top at Daman which is about 2,300 meters high!
Personally I would not have made it to the top without the company of Penny and Donna. We all helped each other with encouragement.
The whole team made it to the top eventually, after nearly 10 hours of cycling and we were rewarded with the most amazing views from the hotel which was built into the side of the mountain.
What a day and well done to the team!